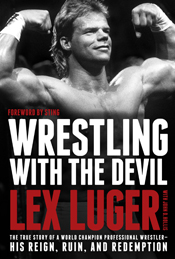 Blog tour participation required tour dates 8/13-8/31
Now is your chance to win a copy of this amazing book. Click on the link below:
a Rafflecopter giveaway
and the winner is:
Wrestling with the Devil
Lex Luger
Lex Luger, wrestling mega-sensation and three-time world heavyweight champion, ruled the ring for years as "The Total Package." Whether he was making a dramatic entrance from a helicopter, defeating champ Hulk Hogan, or sculpting a near-perfect physique, Lex was on top of his game. Yet backstage, he was wrestling with addictions to sex, drugs, and alcohol—things he clung to even when his mistress died suddenly of a drug overdose and Lex went to jail. There, Lex faced the truth: he was losing the fight for his life. And still awaiting him was his most brutal opponent yet, when the wrestling champ found himself helplessly paralyzed from the neck down. In
Wrestling with the Devil
, Lex Luger reveals never-before-told stories from his career, his struggle with personal demons, and how, through unexpected faith, grace, and redemption, he overcame all odds to fight the only battle that really matters.
My Review:
I am a huge wresting fan, so when the opportunity came for me to get to read about a famous wrestler such as Lex Luger I could not pass it up. My mom remembers watching him wrestler when she was growing up and even pulled out some old wrestling movies she had that started him in it. It was pretty awesome to see. Although I am not allowed to watch wrestling anymore because of the language and the type of matches they do, I still loved rubbing it in my moms fave that even wrestlers are Christians. It was amazing to read about Lex's story and all he went through in life.I found myself asking him so many times, why are you so blind that you cannot see you need Christ already!! Geesh, but he just kept spiraling out of control and embracing a deeper and darker lifestyle. I really enjoyed how honest and forthcoming Lex was in his writing. There were alot of things I think most people would have left out of their story for embarrassment and wanting to put the past behind them. I loved that he did not do this. He laid all his dirty, rotten baggage out for the world to see and then pointed it all back to Christ in the end! Very inspirational and moving.
Since I read the last chapter first (yes, sometimes I do this) I knew how Lex's story ended and it made the book more enjoyable to me. I could see all the ways he could have turned his life around faster and saved himself the pain and agony he would go through. Then I stop and think though, god knew what Lex needed to have happen to himself before he would break and chase after Him. The work that Lex does with other kids that look up to wrestler's like idols is amazing. I love having someone who I can look up to that actually glorifies God in daily life and is not such a goody goody. A real person, with a real past that kids can relate to. I like seeing people who have had trials and made it though on the other end. It lets me know there is hope and redemption when Iam facing my trials. Mine may not be dope, liquor and women, but we all have our own weaknesses that the devil exploits to make us feel unworthy of the love and grace that only our heavenly father can provide to us. I am thankful to Lex that he put this book out and had the courage to stand in Gods grace even when he was going to be exposed to the world for his weakness. For when you are weak I am strong! Our amazing God loves us more than we deserve to be loved and I stand in ah when it hits me.
I would recommend this book to all wrestling fans and football fans who want and need a solid Christian role model to look up to. If you are struggling with your salvation I also think this would be a good book to read. Knowing all things are made whole again through Christ. This truth gets me through life when things get hard and I stop and reflect on it:
"No temptation has seized you except what is common to man. And God is faithful; he will not let you be tempted beyond what you can bear. But when you are tempted, he will also provide a way out so that you can stand up under it." 1 Corinthians 10:13 NIV
For more information, please visit
http://mediacenter.tyndale.com/1_products/details.asp?isbn=978-1-4143-7872-5
. Thank you for your time and consideration!
Author Bio
Disclaimer:
I received a copy of this book from Tyndale Publishing in exchange for my honest opinion. The views expressed here are my own and in no way reflect those of Tyndale Publishing.