Blog Tour Description: Please post your review on or around November 22, the 50th anniversary of JFK's assassination. We will provide a book trailer and author Q&A for you to include with your review.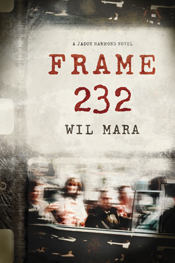 Publisher/Distributor: Tyndale House Publishers
Release Date: July 1, 2013
Category: Fiction
ISBN: 978-1-4143-8176-3
Pages: 400
Binding: hardcover
Price: $19.99
The time had come, she decided, to rid herself of this burden, to take the steps necessary to put the matter to rest once and for all. And the first step, she knew—against every instinct and desire—was to watch that film.
During the reading of her mother's will, Sheila Baker discovers that she has inherited everything her parents ever possessed, including their secrets. A mysterious safe-deposit box key leads her to the answers to one of history's greatest conspiracies: Who killed John F. Kennedy? Not only does she have the missing film, revealing her mother as the infamous babushka lady, but she has proof that there was more than one shooter.
On the run from people who would stop at nothing to keep secrets buried, Sheila turns to billionaire sleuth Jason Hammond for help. Having lost his own family in a tragic plane crash, Jason knows a thing or two about running from the past. With a target on their backs and time running out, can Jason finally uncover the truth behind the crime that shook a generation—or will he and Sheila become its final victims?
My Review:
This was a fabulous book. Well wrote and executed from beginning to end. Fast paced and engaging characters that are well developed and likable. I adored how this book weaved conspiracy theories, research and the infamous
Babushka Lady
all into one. Anytime you can immerse your self in a book to the point you feel like you are watching the events unfold, its a good thing.
Why care about a murder that happened fifty years ago? The Kennedy assassination gave the American people one more reason to distrust our government and how underhanded they can be in a coverup. Worse yet is it still goes on today. What really did happen that day I guess we will never know, but it sure is intriguing to stop and think about it and Mr. Mara gives us alot to think about in his book full of suspense and mystery with just a little romance too.
If you have not picked up a copy yet, I suggest you do. Its a great read that pulls fact and fiction together into one and any history buff, conspiracy therapist or any other individual with a slight curiosity of this historic event is sure to love this book.
President John F. Kennedy is seen riding in motorcade approximately one minute before he was shot in Dallas, Tx., on Nov. 22, 1963. In the car riding with Kennedy are Mrs. Jacqueline Kennedy, right, Nellie Connally, left, and her husband, Gov. John Connally of Texas.
Author Q & A downloadable here
Wil Mara
Wil Mara has been publishing books for the last 25 years. He began with nonfiction for school libraries, moved into children's fiction by ghostwriting five of the popular 'Boxcar Children Mysteries,' then into adult fiction with his 2005 disaster thriller,
Wave
, which won the New Jersey Notable Book Award. The next disaster novel,
The Gemini Virus
, was released in October 2012 to rave reviews by critics and public alike. Wil also spent 20 years as an editor, working for Harcourt-Brace, Prentice Hall, and others. For more information, visit Wil at
www.wilmara.com
.
wilmara.com/index.html
facebook.com/Wil.Mara....
Disclaimer:
I received a copy of the book free from
Tyndale Publishing
blog network in exchange for my honest review. The opinions expressed are my own and do not reflect those of the publishing company or author.