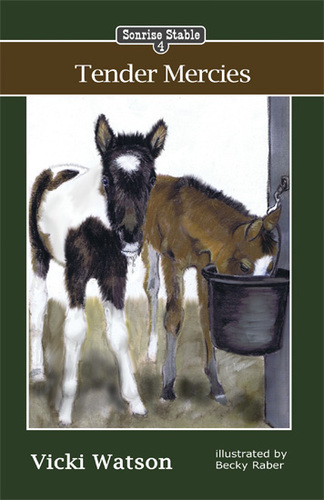 ISBN: 978-0-9847242-3-9| List Price: $8.95 from Vicki's website or $9.86 on Amazon | Format: Paperback | Page Count: 127
Sonrise Stable: Tender Mercies
This is Book 4 in the Sonrise Stable Series.
When Rosie, Carrie, and Grandma are asked to help out at Last Chance Corral, a nursemare foal rescue, Rosie is shocked when she experiences firsthand how cruel some people can be to animals. During the week at Last Chance, the girls learn that the God who knows when a sparrow falls to the ground works through the kindness of others to provide for the animals He created. For the foals, and the girls, Last Chance Corral is a life-changing experience.
Tender Mercies
is the fourth book in the Sonrise Stable series, heartwarming stories of an extended homeschooling family as they live, learn, and love together. Mixing adventure, life lessons, and realistic horse experiences, the series is a must for readers who enjoy family values, Christian faith, and, of course, horses!
My Impressions:
This is the fourth book in the Sonrise Stable series that follows a small newborn foal from its first breath to adoption. Written from the prospective of the foul you follow along as he learns to walk, eat, play and bond. This is just an amazing book for young elementary children.
I originally picked this book simply because my 7 year old son wanted a book he could read and it was available.In the end it was one of the best decisions I made. My son begged to read this book with me, wanted to watch the videos on horses and it opened him up to a whole new world and perspective of animal rescue. He got such a giggle from the horse and was mesmerized at the same time.
I loved the opening quote from Proverbs 12:10 "A righteous man regardeth the life of his beast: but the tender mercies of the wicked are cruel".

Biblical footnotes like this are spread throughout the book allowing you to discuss them at the end or after each chapter should you choose to do so with your kids to add an extra element to this wonderful story. MY son adored the sketches throughout especially the one that matched the front cover! Easy book to recommend for boys and girls alike in elementary school.
About the Author: Vicki Watson
My love of horses began when a teenage neighbor offered me my first ride, on the back of her horse. From my 8-year-old perspective, it seemed like the biggest horse in the world. From that moment on, I was addicted. Horses were to become a very important part of my life, although I never could have imagined, at the time, how much God would teach me about Himself and my relationship to Him through these wonderful animals.
The Sonrise Stable series combines my love of God and horses in stories that I hope will help children learn more about both. I have a vision for ten initial books in the series, taking the main characters through one year. Beyond that I'll see where God leads me.
I have been blessed with three daughters and homeschooled each of them through high school. I enjoy trail riding my Rocky Mountain mare, Nikki, hiking, photography, and playing guitar. I

work from home

as a and computer programmer and enjoy the variety and flexibility that allows.
Disclaimer
:I received a free print copy of this book from Christian Cowgirl Publishing via the CWA Review Crew in exchange for my honest review and opinion which I have given.