KATE AND THE KID is about a young woman (Kate) who has just lost her job and had a major fight with her boyfriend (also arising from the trauma of being fired). At this very low point in her life, Kate is tricked into taking care of a sweet but emotionally damaged six-year-old girl (Jenny) who only communicates with adults through a doll she calls "Miranda." As a result of an eventful night of babysitting, Kate begins to bond with Jenny, which causes a whole new set of complications with the people in Kate's and Jenny's lives. This book tells the story of how Kate and Jenny help each other to heal, grow, and navigate the difficult and sometimes dangerous world of New York City.
~My Impressions~
Beautiful book that remind us we do not always know what we think we know about someone. When we first meet Kate she comes across as this egotistical, self centered, and as a childish woman. She has just lost her job and boyfriend and is staying across from Jenny wallowing in her own self pity.
Jenny is six year old little girls who is very distrustful of adults, reserved and unsure who she can trust anymore after suffering both physical and emotional abuse at the hands of those who were suppose to love her and care for her.
At first Kate thinks Jenny is just an average kid in need of some basic hygiene, but soon she starts to see the situation differently. It is not until Kate is basically tricked by Sally to babysit Jenny that she begins to bond with the girls, although she does not realize it right away. As the story develops those bonds are tested time and again as more about Jenny's past and present come to light.
Jenny and Kate test the bonds of love, friendship, trust and loyalty in this heartfelt and inspiring book. This is a book that will touch your soul and make you really think about the issue of child abuse and how one person can make a difference if only they believe.
~Giveaway~
Thanks for stopping by

Our Families Adventure

tell me

what were you like at school?
Anne was a good student. Ken was also a good student until the third grade. After that? Not so much.
Were you good at English?
Anne was very good at English. Ken liked to write the compositions, especially stories, but wishes he had paid more attention to spelling and grammar – as did his teachers. Ken is still learning the rules.
What are your ambitions for your writing career?
We hope to keep writing as long as we have ideas for books and readers keep enjoying our work.
Which writers inspire you?
We're both inspired by Kurt Vonnegut and Charles Dickens. Ken would add William Faulkner and James Joyce.
Give us an insight into your main character. What does he/she do that is so special?
Kate is a rather selfish young lady as the novel begins. Then she takes care of a little girl (Jenny) who has emotional issues that strike a responsive chord in Kate. Against the advice of friends and the especially strong urgings of her boyfriend, Kate continues to find excuses to take care of Jenny until she has bonded with the girl as a mother will bond with a child. The experience transforms Kate and Jenny.
What are you working on at the minute?
We are working on a long novel entitled MINISTER, and several shorter projects as well.
MINISTER follows a young man named Daniel from his teenage years in a small town in Maryland to his life as a minister at a large congregation in suburban Philadelphia. The plot revolves around Daniel's tempestuous interactions with his brother and mother, and his struggles with his own doubts about God and the religion he is espousing.
What genre are your books?
KATE AND THE KID is a mainstream novel. We also wrote a mystery/suspense book called MIND ME, MILADY, and a book for middle readers/tweens called THINGS ARE NOT WHAT THEY SEEM.
What draws you to this genre?
We usually start with a story that has a particular theme, and we tell the story in the genre that allows us to make the fullest presentation of what we are trying to do.
When did you decide to become a writer?
We have both wanted to be writers for as long as we can remember thinking about what we wanted to do with our lives.
Why do you write?
We write because we have a story, or a theme, that we feel compelled to express. If we ever stop feeling that compulsion, we will stop.
What made you decide to sit down and actually start something?
We had a story that we felt we wanted to try to put down on paper and have people read.
Do you write full-time or part-time?
Ken has always had a full time job as a lawyer and wrote on the weekends and sometimes in the evenings. Anne worked on writing whenever she could find time while taking care of their home and raising three children.
Do you have a special time to write or how is your day structured?
Anne can work almost any time. Ken prefers to work in the morning.
Do you write every day, 5 days a week or as and when?
Ken is transitioning to retirement and now works on writing three to four days a week. Anne works at writing seven days a week.
Do you aim for a set amount of words/pages per day?
No. Ken would work between approximately 8:00 a.m. and 1:00 p.m. After lunch, he would take the kids out or Anne and he would do something together. Anne worked whenever she found time, but without a page or word time frame.
Do you write on a typewriter, computer, dictate or longhand?
Ken worked at a typewriter before there were computers. Now he works at a computer. Anne works with a pen and a pad.
Where do your ideas come from?
That is a question that people have been wondering about for a long time. An idea can spring from anywhere – recognizing that there is a story worth telling in the idea is a miracle that has never been explained to us.
Do you work to an outline or plot or do you prefer just see where an idea takes you?
We start with a theme, a basic idea for the plot, and a few important characters. But many transformations and rewrites occur as we move from the early drafts to a final product.
How do you think you've evolved creatively?
We've gotten to the point that we can recognize a mistake earlier in the process than we did in our beginning years. We still make mistakes, but we see them sooner. We are also more willing to cut a mistake and start over.
What is the hardest thing about writing?
Probably the hardest thing about writing is to maintain the belief in yourself that the story you want to write is worth writing and that you are capable of writing it well. Working together gives a lost of support to get through the doubting moments. Our collaboration also makes the writing process less lonely.
What was the hardest thing about writing your latest book?
Writing a story in which a young woman changes gradually in her attitudes and in her ideas of love and kindness as she takes care of a young emotionally needy little girl. It is a very small topic, but a very important one. We worked hard to make the story compelling.
What is the easiest thing about writing?
Sitting down to write is a wonderful experience every time we do it. It is hard, but it is wonderful. If we didn't think so, we would have stopped years ago. There is a sense of expectancy and excitement when we consider a new scene, new characters, how they will interact, what they will say. It is an amazing feeling.
How long on average does it take you to write a book?
Somewhere between one and twenty years.
Do you ever get writer's Block?
No. If one idea is not working, we jettison it and find something else. Writer's block is the mind telling you that you are doing the wrong thing.
Any tips on how to get through the dreaded writer's block?
Consider finding a different way to write a scene. Maybe even think about trying a different book. Put something into words. You can't edit if you don't write in the first place. Likewise, you can't see what's wrong sometimes until you commit the bad idea to paper.
What is your favorite motivational phrase?
Get to work you lazy bum!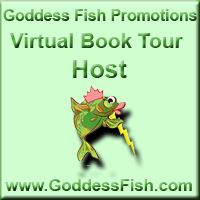 ~Disclaimer~
I received a free copy of this book/Ebook/Product to review. I was not required to write a positive review nor was I compensated in any other way. The opinions I have expressed are my own. I am disclosing this in accordance with the FTC Regulations. I am part of The Goddess Fish Review Crew. If you are interested in Goddess Fish Promotions, you can contact them via

website

,

Twitter

,

Facebook

,

Blog

, or

Google+

.