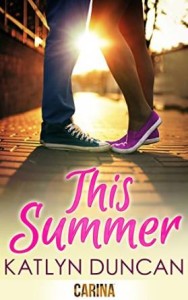 Inside the Book:
Title: THIS SUMMER
Author: Katlyn Duncan
Publisher: Carina UK
Pages: 288
Genre: Upper YA/Contemporary Romance
Before college, before responsibilities, Hadley Beauman and best friend Lily are determined to have a summer to remember. There will be all the usual dramas – ex-boyfriends who don't seem to know what 'ex' means, pesky younger brothers with unrequited crushes, but what Hadley didn't anticipate was the out-of-the-blue return of the seriously hot boy-next-door, Will Carson. The boy who broke her heart when he skipped town two years ago.
Will may have shot up a foot and filled out (oh yes), but inside he carries the weight of guilt – for leaving, for coming back… Now he's just passing through to tie up loose ends but it's clear the old chemistry still crackles between him and Hadley. Trouble is, it's built on two years of lies…
This summer might just be the best time of their lives, but is Hadley ready for everything to change – again?

My Impressions:
This was a great summer read book. It was pretty consistent with its pace and it had good character development with both the main and secondary characters. Unlike some other summer books that I have read this one also dealt with some heavier topics on learning to let go of the past to move forward iwth your future. It also dealt with the issues surrounding forgiveness and how not forgiving hurts you more than them. There were also quit a bit of relationship issues that were addressed in this book that help add to the plot and the growth of the characters.

Will and Hadley were interesting to get to know. They were both flawed, and likeable characters. Hadley is the basic girl next door type, loving daughter, reliable friend and overall all American type of girl. She has a past like everyone else that she has to come to terms with before she can move on in life Will is the type of guy that everyone seems to love and that cannot do wrong. Will and Hadley are great except for the looming fears Will has over letting Hadley know about his past with his family.

Overall I enjoyed this book. For the most part it was a good read that I can recommend to others.

Thank you to the author for providing me with an ARC copy in exchange for an honest review.

About the Author:

Please post your review by August 27